William Davis (1801-1875) was married to Martha Ricketts (1804-1888) and came from Montgomery County, Maryland to settle in Jessamine County, Kentucky. Their son, Robert Wilson Davis was born 22 Nov 1836 in Jessamine County, Kentucky and died near Lexington, Kentucky. During the War Between the States, he served in the 8th Kentucky Cavalry in Morgan's Brigade and was a prisoner at Camp Chose, then was taken to Camp Douglas in Chicago. Eventually he was exchanged and went to serve under Jefferson Davis.
Subscribers of www.kentuckypioneers.com can see the full genealogy under
Genealogies

EPHRAIM PEARSON B. APP. 1804 IN SC IN FORSYTH CO GA BY 1840 WAS MARRIED TO A NANCY UNKNOWN IN SC. RISE ABT. 9 KIDS IN GA. D. APP. 1860. THANKS. Email
BAILEY. Hey there. I'd like to find the childhood homeplace of my maternal grandmother and that of her mother. Both were of Screven County and the small town of Cooperville is named for my grandmother's mother's family. I don't know how it came to be named for them, and I'd like to know that too. My grandmother was Sarah Ellizabeth Bailey. I am able to find census records in Savannah. I have also seen entries for Laura Cooper and, later, Laura Cooper Bailey of Screven Co. This was her mother. On the Georgia pioneers site I see refernece to wills made by Coopers of Screven Co., and I suppose these must be ancestors, but I'm not sure. My paternal grandfather's family is much easier to track: Brick church at Millhaven and Midway Church in Liberty Co. They were Lines. brown_helen


DEADIMMA HENDLEY HARRIS. Looking for info on this woman, she came to GA from VA in 1777 or thereabouts. She had one son Hendley Harriss/Harris any info appreciated. E-mail me

GUTHRIE. William Guthrie came into Coweta Co. GA about 182?, probably with sons William J. and James Martin Guthrie (probably other family members). In 1828, son William J. married Hannah Weaver, a widow from Wilkes Co. GA in Coweta Co. Hannah, whose maiden name was Snyder, apparently originated in Edgefield Co. SC, where William J. was born. When she married William J., she brought two sons, John and William Weaver with her to Coweta Co. Can anyone provide information about William and his ancestors? Richard and Kay Guthrie [543kay@charter.net]

RIVERS. I got your e-mail address via your blog. I am researching two families in Georgia. I have been trying to find a wills or any documents on them. Any advice or help you could give me would be most appreciated. If you have the time to read the specifics of my research please continue reading below: Though I have been researching my African American family since 1980, I have not been able to find direct reference to my Georgian ancestors prior to the 1870 US census. On an unrelated note, I have had luck on several of my ancestors in the North Carolina region where I've discovered their slave owners and documents that mention them. Yet my RIVERS family in Wilkinson county, Georgia has not gone beyond my suspicion the Joel RIVERS as the possible slave owner. I can not find a Will or any documents from him. The other Georgian ancestor was still listed in the household of the possible widow of the slave owner. The very possible slave owner was Samuel BROWN born 1792 in North Carolina and died May 1863 in Wilcox county, Georgia. Samuel BROWN's wife was name Honor MILLER born 1804 and died Apr 6, 1878 in Wilcox county, Georgia. My GGG Grandfather Abner BROWN and his wife and two children was still living in Honor BROWN's household in Wilcox county, Georgia during the 1870 US census. Thank you for having read my research. Any thoughts, resources and or help will be Greatly Appreciated!
Allen McClain

Reply from Jeannette Austin: I have added your information to the Pioneer Newsletter which is distributed about once a week to over 6,000 subscribers. Also, put you on the email list (https://). Perhaps someone can help you. You might try Laurens County as I have found that a number of Wilkinson County people recorded deeds, estates, etc. there. I would search Wilcox, Wilkinson, Laurens Counties – deeds, estates, inventories, etc., everything that county has. Good luck!

DOZIER. Hello, Doing a little research and wanted to know if you had any information on a Dozier Thornton. My father (William F. Thornton) who died a few years ago in his 80's use to talk about his grandfather who had one leg (perhaps diabetes). . . Dozier Thornton. The only thing that he remembered was that the family lived in Stewart County Georgia. Dozier Thornton was a slave who later became https:// and purchased a large sum of land. Dozier had a brother named John whom he lost contact with. My father's mother's name was Gussie and her mother's name was Ollie. Ollie had siblings named Rosie, John, Mattie, Josie, etc. I know that Josephine was the youngest or my daddy use to say they called her Dozier's baby girl. I think Dozier's wife's name was Heidi or something. If you have any info. I would appreciate it if not thanks for taking time out. Marjorie Thornton Bostic, MPH , Health Planning Specialist, Oklahoma State Department of Health, Health Resources Development Service, 1000 NE 10th Street, Oklahoma City, Oklahoma 73117, Office: 405-271-6868 Fax: 405-271-7360

Reply from Jeannette Austin: See The History of Stewart Countyby Terrell. There are some Thorntons in those 2 volumes.

HOLLAND. My brickwall is William M. Holland b. 4-4-1826 d. 7-2-1885....He was born in S.C. and died in Ark/Texas, right on the border. He married Mary Chappelear b. 12-18-1830 in Ga. Died 4-14-1887.. They had 11 children...4 boys, 7 girls. One of their sons was Thomas Jefferson Holland born 1857 in Ga. and died 1937 in Texas. I have Mary Chappelears family traced way back. But nother on William..all I know about him is that his father was from Virginia and his mom was from S.C. Thanks for anything. Jimmy Holland, Atlanta, Texas. Email: jlholland@aep.com

Hi,I saw in the newsletter that you allow https:// advertising and I was hoping you would accept my submission. I have started the first social network site SPECIFICALLY for genealogy/genealogist, its like myspace/facebook but without all the "crap" that goes along with those sites. We are a little over a month old and already at 570 members. Its completely https:// and we are trying to get the word out about it (which Im sure you know is difficult in the genealogy community, everyone always thinks your spamming lol) Check us out at https://ancestralspace.com and hopefully it will meet your submission requirements for the https:// advertising :) If not, well then just come on by and make yourself a page anyway!! We'd love to have you. Shannon, Owner AncestralSpace



NEW INFORMATION - Latest Additions to the Pioneer Websites
Walton County Wills and Estates (digital images) 1819-1839. This book is the earliest surviving book containing wills. Index of Names: Acock, Jonathan; Baget, Allen, Andrew ;Browning, William ;Burgess, Elijah; Cobb, John; Flynt, William;Jones, Thomas;Martin, George ;Matthews, Robert; Moore, Richard; Parson, John ;Scales, Thomas; Shepherd, Orlando; Spears, Joseph G.; Thornton, Dred; Turman, George; Thurman, Martin; Twitty, Peter ;Wayne, Thomas ;Williams, Nathaniel
Civil War - Pension of Annie Helen Eve, widow of Oswell Eve of Burke and Fulton Counties
Genealogies: - Descendants of Frederick Kent in GA and AL, submitted by Sharon Goetz. Anyone having connections please contact Email
| | |
| --- | --- |
| Bible Records - Bruce, Collings, Cooper, Graham, Hayden of Franklin County, Park-Richardson, Pedego of Glasgow, Redford of Glasgow, Richardson, Ropke, Steele, Wallace of Louisville | Folder Collection - Dixon of Warren County |
North Carolina Genealogy | Articles
Genealogies - Abercrombie of Orange County;Ashe;Atkinson of Caswell County;Austin of Mecklenburg County;Aycock;Banks;Battle;Beckham of VA, NC, GA ;Beddingfield;Boyette;Brickell of Hertford County;Brooks;Buckner ;Bullock;Buttrill;Carmichael;Chambers of Haywood County;Clark of Bertie County;Clayton of Transylvania County; Coffee ;Collins of Granville County;Cornwall;Cowan;Craton;Davis;Dickson ;Edmondson of NC and GA;Evans of Onslow County;Evans of Currituck County;Farrar of Greenville County; Franklin of Burke County;Fuller of Caswell County;Futch ;Gay;Gober;Goforth;Gray;Greene of Craven County;Hall of Caswell County ;Hampton of Haywood County ;Hancock ;Harget ;Harrell ;Haywood of Edgecombe County ;Henson ;Hewitt ;Hiatt of Guilford County ;Hill of Bertie County ;Hogan ;Huff ;Human ;Iredell ;Johnstone ;Jones of Northampton County ;Jones, VA to NC ;Jordan ;Jordan of Buncombe and Transylvania Counties ;Killian of Transylvania County ;King of Translvania County ;Lane of Craven County ;Lavender of Jones County ;Lavender of Craven County ;Lea of Caswell County ;Lee ;Long ;Lowrance ;Malone ;McCall of Transylvania County ;McCrary of Transylvania County ;Meece/Mease of Haywood County ;Neeley of Caswell County ;Osborne of Transylvania County ;Outlaw of Bertie County ;Padgett ;Paine/Payne of Caswell County ;Parker of Martin County ;Patterson of Caswell County ;Peacock of Wayne County ;Penland of Haywood County ;Perkins ;Perry of Perquimans County ;Peyton of Gloucester County, Virginia and Bath County, North Carolina ;Polk of MD, NC, TN & AR ;Pullen ;Raiford ;Ratliff of Haywood County ;Sailors ;Saxon ;Sherrill ;Simpson of Caswell County ;Stokes of Halifax County ;Taylor, Hannis (1851-) New Berne, North Carolina ;Tiernan, Frances Christine 1846-, Salisbury, Rowan Co., North Carolina ;Tucker ca 1589 VA, NC & GA;Underwood of Haywood County;Vance, Zebulon Baird 1830-1894, Buncombe County, North Carolina;West;Williams of Guilford County
Bertie County Wills ca1720-1799 (Abstracted)
Genealogies; Clements of Virginia and Lexington District.
| | |
| --- | --- |
| Bibles - Tapper; Leighton | Folder Collection - Donelson from England to Virginia and Tennessee; Dickson, Joseph, descendants of, 3 pp.; Dickson, James of Perry County, 4 pp. |
Virginia Genealogy |

Abstracts of Wills: Campbell County (1782-1801); Amherst County (1762-1782); Bedford County (1763-1775); Loudoun County (1761-1774); Prince William County (1734-1782); Rockbridge County (1778-1797).

Genealogy Books Online |

Books Added - Bone Connections by Dorothy Holland Herring and Jeannette Holland Stucki (1970), 35 pp.; The Family Record of John Cooper 1778-1909 Arranged by Sarah Edna Cooper Holtzclaw (1909); Copeland Genealogy 1913, 900 years, begins in France, 21 pp.; Early History of the Daniel and Daniels Families in Europe and America by Henry Dudley Teeter (1920), England, Scotland, Massachusetts, 13 pp.; Ormsby with allied families of Abbe, Knowlton, Carpenter and Griswold, of Massachusetts and Rhode Island, 22 pp.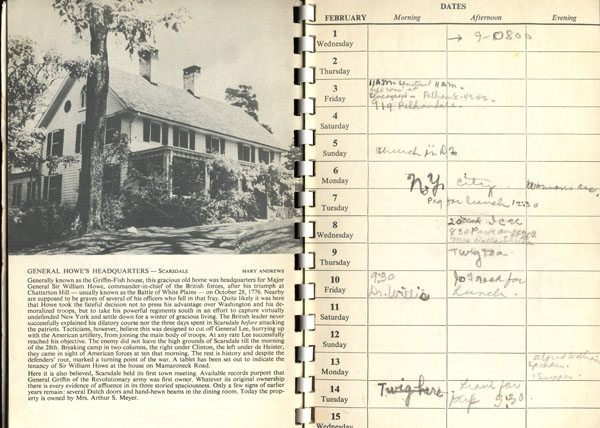 Westchester, a New York State Date Book, historical photographs

© 2008 Pioneer Families LLC